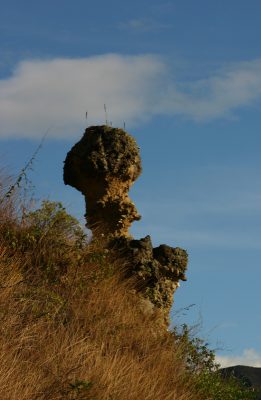 Nature Reserve & Ecolodge
PRESENTATION
It all started as home. After 16 years mostly as a naturalist in the Galápagos islands (one year in the Amazon, two and a half years in the USA studying zoology), Orlando came to Vilcabamba in southern Ecuador, fell in love with the valley, and found his perfect land by the stream.
In it he built his own house and when finished, went for a visit to his native country of Argentina where he met – and soon married – Alicia, a biologist. Together they kept on guiding in the Galápagos for nearly 2 years. In 1991, they moved for good to Vilcabamba and awaited their first baby Melissa, at home. Omar and Lucas followed in succession. All this was part of the beginning. With a feeling for healthy ecosystems and natural beauty derived from life in Galápagos, both were appalled by the horizon-to-horizon extinction of the original nature, approaching Vilcabamba from a western semicircle.
As part of the buffer zone of one of the world's most biodiverse areas (Podocarpus National Park), our little "Valley of Longevity" enjoys a steady stream of travelers from the world over who savor a balmy, tranquil stopover on their somewhat tiring journeys around South America, only to realize later (not without a touch of surprise) that their Vilcabamba experience was one of the best they've had! And they recommend it. With this they help create a travelers' rendezvous, where often the last thing people have in mind is the idea of longevity; as if quality and not duration, was what really mattered about life on earth.
The charm of Vilcabamba notwithstanding, the fact remains that a desertification process is advancing. In our view, this is due to the insignificant value ecosystems attain within our actual economy. So low a value in fact, that peasants opt for burning the immensely complex and diverse nature they own, only to hurry a few years' crops before the land loses its fertility for just about everything except grasses and thorny scrub. A few cows, donkeys and horses become the final users of these now barren, steep mountains. And only during 3 or 4 months per year, while the rains last.
This predicament now threatens to eliminate the last 8 to 10 percent of natural ecosystem remaining in the province of Loja, much of which is weakly protected by the National Park status of Podocarpus (the name applies to the only Andean genus of native conifer trees of Ecuador -a relic from the ancient past). It is, therefore, of imperative necessity that alternate models be implemented whose top priority would be to stop the burning and any other form of environmental degradation, by means of valuation -also in monetary terms- of our Natural Heritage.
It is at this level where the international community must step in. In fact it has been doing precisely that – more or less consciously – ever since eco-tourism, coupled with environmental awareness, came to the fore.
The "Rumi Wilco" project represents one such alternate model of environmental protection. A group of neighbouring landowners to the Falco's homeland, agreed to pool their own tracts of relatively undisturbed territories and collectively vie for government support in permanently conserving and upgrading the biodiversity contained in them. This support happened when on July 14th 2000, the Ministry for the Environment granted the "Protective Forest and Vegetation" status to their joint lands. A core funding to the project is obtained by the ecolodge, providing houses made of wood, adobe and tile carefully designed besides the reserve grounds and serving a growing number of travellers. The beauty of this mode of private protection of nature rests with the multiple ways available to responsible tourists for helping out. The mere fact of making a conscious choice for a place to stay, where expenses are being recycled into a profitable conservation effort, is then a kind of " eco-travelling " . Voluntary and accredited work -both physical and mental- on the various needs of the protected area, constitute another way of reciprocating for their happy rewards.
From 2005, a self-guided nature trail system has opened to visitors of Vilcabamba.
Because of its central location within the valley, Rumi Wilco is a relatively short walking distance from most other lodgings.
Local people will be keeping a close eye to the success of this project. If they perceive the importance and dedication outsiders give to this tropical paradise, they will no doubt also want to save their valuable environmental assets and try to do the same. And we truly hope they do.